Zsite 8.3 is released!
2020-06-28 15:03:00
Renee Teng

Original

3769
Summary : Zsite 8.3 is to add more features and WeChat mini programs.
Zsite 8.3 is released!
This release has added customized headers, auto-delete, open-in-new-windows, and other often used features to facilitate the work of website designers and managers. It also added WeChat Mini Program membership, shopping cart and purchase payment. Try it today!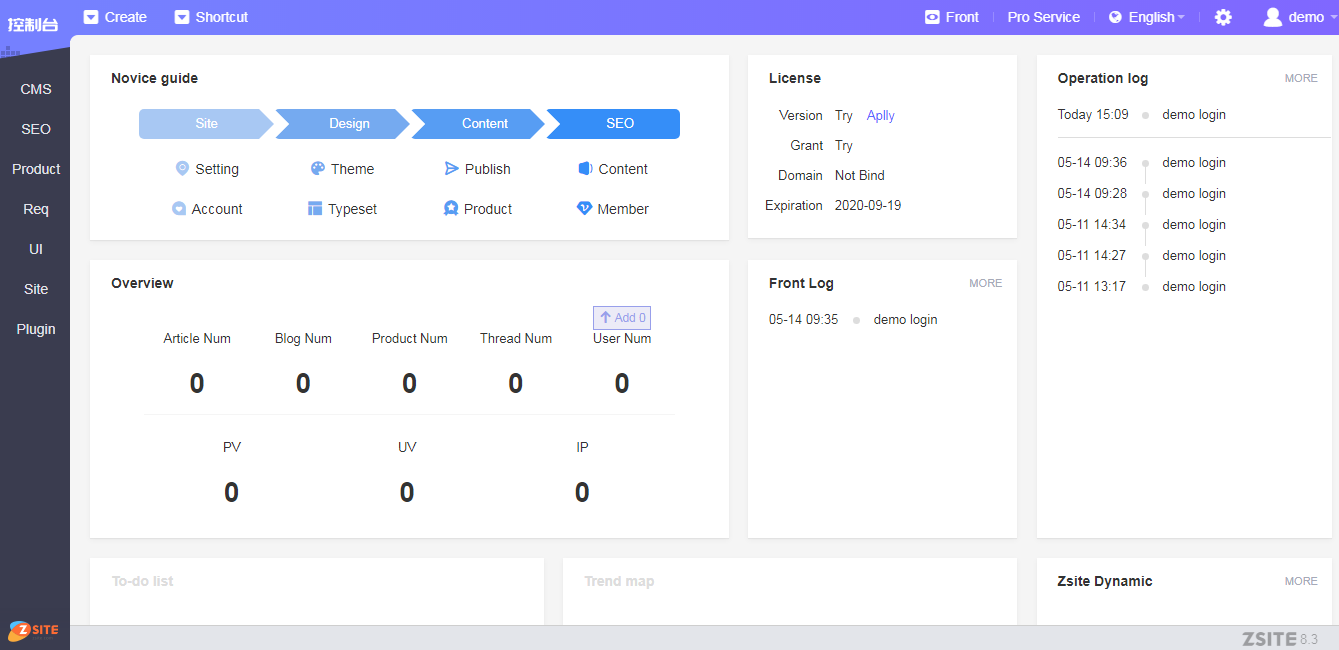 Change Log
Story
1. Added a membership in WeChat Mini Program.
2. Added shopping carts in WeChat Mini Program.
3. Added payment system in WeChat Mini Program.
4. Added the feature setting that the block content opens in a new window.
5. Customized for the right column and middle right column of the header block.
6. Optimized auto jump back to the original category list after editing the article.
7. Added the function of auto-delete his reply after adding a user to the blacklist.
8. Added batch delete to reply lists.
9. Change the position of Front at the navigation bar of the backend to the right.
10. Removed empty tags in the custom appearance under the default theme at the backend.
11. Login page automatically gets the focus of the username input box
12. Optimized the display of action icons for post lists at the backend.
13. Optimized the style of the maximized JS and CSS editor.
14. Added the display of public security record number at the bottom.
15. Set the first-level and second-level navigation menus are highlighted, when browsing the page.
Bug
1.Fixed the issue that the user's contact information was not displayed in the backend.
2. Fix the bug that the video and form block in the block list was not displayed.
3.Fixed the bug the grouping button is not displayed when the grouping permission was added.
4.Fixed the bug that the individual right-click menu of the table in the rich text editor did not display.
5.Fixed the bug that the custom right column of the website header block is not available.
6.Fixed the bug the order list at the front was not refreshed after a comment is written.
7.Fixed other issue noted.

Download
One-Click Installation Package for Windows
Windows 64-bit one-click installation




Windows 32-bit one-click installation
PHP Package
Note
Before downloading and installing Zsite 8.3, make sure that your server (virtual space) has installed the Ioncube( Install Ioncube Instruction), a decryption extension. If your server does not support the decryption extensions, it is not recommended that you upgrade it.
Help
Demo
If you are interested in knowing more about Zsite , feel free to contact us at [email protected] .

---
You can also follow us on
Facebook
https://www.facebook.com/natureeasysoft/
Linkedin
https://www.linkedin.com/company/1156596/